SubSee Magnifier and Adapter
The essential tools for super-macro photography and videography
New larger, higher-quality optics now available in two powers!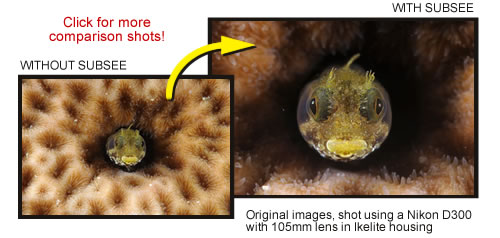 The SubSee Magnifier
ReefNet's SubSee Magnifier is a high-quality close-up lens specifically designed for underwater photographers and videographers. It may be used on its own or mounted in a SubSee Adapter for maximum convenience. Its features include: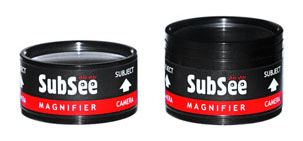 Large Diameter: A 52 mm diameter lens offers a wide field of view compatible even with full-frame DSLR cameras (36 mm x 24 mm sensors).
Multiple Power Options: Available in either +5 or +10 diopter versions. Choose the power best-suited to your style of photography, or get both for the most flexibility. The +10 version can increase your camera lens' magnification by up to 3.5x!
Sealed, Multi-element, Coated Optics: Because SubSee's optics are air-sealed, they retain full power underwater. Multiple lens elements (either 2 or 4 depending on strength) virtually eliminate pincushion distortion and chromatic aberration. Furthermore, anti-reflective coatings on all lens surfaces increase image brightness.
Standard 67 mm Mounting Thread: The SubSee Magnifier offers an industry-standard 67 mm thread. Screws directly onto many underwater housing ports!
Optional Handle / Lanyard Mount: These accessories allow hand-held use. Ideal for marine life enthusiasts.
The SubSee Adapter
The SubSee Adapter affords the underwater photographer the highest level of shooting convenience. Once the SubSee Magnifier is inserted, it can be swung into or out of place in seconds.

The lens is removable for use as a handheld magnifier, and the lens mount is interchangeable to accommodate optics of various sizes and powers.
Each adapter is made-to-order from durable, light-weight ABS plastic.
An Adapter for Every Occasion (and Port)
Each SubSee Adapter is custom made to fit your particular camera housing and port configuration. Adapters for all popular DSLR, compact digital, and video housings have already been designed, including: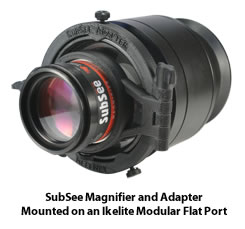 10Bar
Amphibico
Aquatica
Athena
Canon
Gates
Hugyfot
Ikelite
Inon
Jonah
Light & Motion
Nauticam

Nexus
Olympus
Patima
Sea & Sea
Seacam
Sealife
Sealux
Seatool
Subal
Top Dawg
and more...
If you happen to have a port or housing configuration that we haven't come across, don't worry! We need just a couple of simple measurements to manufacture your custom adapter. If you feel uncomfortable making them yourself, you may simply send your equipment to us for analysis. Once the measurements are made, manufacturing takes less than 48 hours...we work quickly!
Compare with the Competition
What makes the SubSee Magnifier and Adapter combination the best underwater close-up system? Consider the following:
Size and weight - It is less than half the weight of most close-up adapters, and is considerably more compact.
Power - The sealed +10 diopter version is the most powerful in the industry.
Modularity - Both the swinging adapter arm and the SubSee optic are interchangeable to accommodate different magnifier sizes and strengths.
Convenience - The hinged arm keeps the magnifier in place when you need it and out of the way when you don't.
Versatility - The SubSee Magnifier can be removed for use as a handheld magnifier.
Custom Engineering and Manufacturing
If the standard SubSee Adapter design doesn't meet your particular needs, just let us know what you're looking for and we may be able to help. Our engineers can take your ideas and turn them into functional products, or you may send us a ready-to-build 3D part file. Need a double-hinged adapter to hold two different close-up lenses? How about a custom focus light mount? A camera LCD magnifier? No problem!
ReefNet manufactures parts with the latest 3D printing technology in record time. Most designs can be produced in under 48 hours! Contact us for a detailed quote.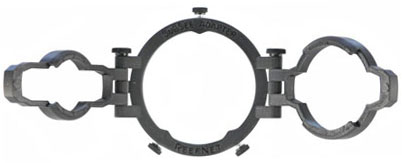 A Variety of Applications
Super-macro photography/videography: achieve unprecedented magnification to reveal intricate details in your images.
Marine life enthusiasts: closely observe tiny creatures to make a positive ID
Divemasters or marine life educators: show clients/students unusual finds
Marine scientists: inspect corals, creatures and fishes in situ, before (or in lieu of) collection
The visually impaired: read dive gauges, your watch, etc.
Magnification Calculator
While most close-up lenses range in strength from +2 to +4 diopters, the SubSee Magnifier is offered in both +5 and +10 diopter versions. The achievable magnification ratio varies depending on your camera lens and port geometry. The calculator below will estimate the magnification ratio for your particular setup: